Online Self Defense Training
During these crazy times, it's easy to feel out-of-control.  It's also easy to wonder about whether or not you are "safe."  If something happened, and you needed to do so… how confident are you that you could defend yourself? 
We get a lot of folks who want to train, but… for whatever reason, they are not able to make it in to the academy to do so in-person.  So, the question comes up (especially during the last year and a half) … "Is online self defense training any good?"  
The simple answer is that it's better than nothing.  However, there's only so much you can do with online training.  It's WAY better to train in-person than it is to train online.  And, to add to that, it's very difficult to ascertain whether the self-defense training you are viewing online is any good.  (There's a lot of garbage out there.)  
We do offer two online portals.  Home Invasion and Tactical Urban Survival (HIATUS) offers about eight hours worth of self defense tips for everyday living and home defense.  This includes how to get out of common restraints (like duct tape, rope, and handcuffs.  Yes, bad guys use handcuffs, too!)  You can learn more at www.hiatustraining.com.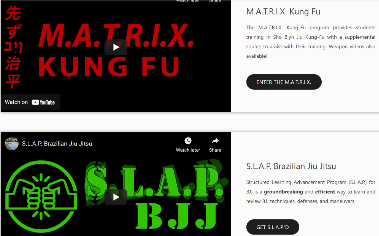 The New Dojo offers online supplemental instruction that works in conjunction with our in-person martial arts classes.  (Specifically, we have Kung-Fu and Karate, Brazilian Jiu-Jitsu, and a power stretching course available on that website.)  You can learn more at: https://www.thenewdojo.com.  (We have students as far away as New Zealand who enjoy the online course content provided via The New Dojo.)
I highly recommend in-person martial arts training to anybody who wants to learn how to defend themselves or protect their family.  However, online training can be a nice supplement, especially if you are not able to make it for in-person classes.  (Just try to resist the urge to go to youtube without checking the credentials of whomever you may watch.)    
We all have our areas of expertise, and we rely on each other when in need. Our expertise area at Plus One Defense Systems, located in West Hartford, is in helping you become healthier and safer. When people in our community need to learn to defend themselves and / or get in better shape,or if they are just looking for some fun martial arts classes as a new healthy hobby, they often come to us. We're passionate about helping people, and we want to see you succeed!
Call or email me today to get started with a self-defense or martial arts program that will also help you become healthier.  You can also visit us online at www.TeamPlusOne.com to register for a free introductory session in one of the many different martial arts styles we teach, including Krav Maga, Kung-Fu, Karate, Brazilian Jiu-Jitsu, Muay Thai Kickboxing, and Silat.
Helping you live a healthier, happier, safer,
more successful life

9 Tolles Street West Hartford, CT

860-922-5343
Hidden fat…
If you've ever gotten into the habit of frequenting a coffee shop at the same time each morning, then you know that most people drink the same thing every day. There's the lady with her pumpkin latte with whip, the guy with his black coffee and the college student with her frappuccino. Same order every single day.
What's your daily drink? If it contains sugar and is high in calories then you've just identified your easiest way to reduce body fat. Simply change your drink to something that is zero calorie. A green tea. Plain coffee. Water.
Change your sugar-laden morning drink to a zero calorie drink and try this for 30 days. You might be pleasantly surprised to see some fat loss with virtually zero effort.  
Pumpkin Protein Cookies
Here's a cookie that will satisfy your need for pumpkin spice this season, all without the sugar and carbs of traditional cookies! Be sure to use a high-quality grass-fed why protein powder for the best results. Make a bunch and store leftovers in the freezer.
Courtesy of RealHealthyRecipes.com
What you need
Servings: 30 cookies
1 cup butter
1 cup brown suguar
1/2 cup granular sugar
1 egg
1 teaspoon vanilla extract
1 cup pumpkin puree
3 scoops vanilla protein powder
1 cup blanched almond flour
1 1/3 cup rolled oats
1 teaspoon baking soda
1 teaspoon pumpkin pie spice
½ teaspoon sea salt
½ cup chopped pecans
1 cup white lily's chips
Instructions
1. Preheat the oven to 350°F. Line 2 large rimmed baking sheets with parchment paper and set aside.
2. In a large mixing bowl mix the butter, brown and granular swerve together. Add the eggs, vanilla extract and pumpkin puree and mix until fully combined.
3. Mix in the protein powder, almond flour, rolled oats, baking soda, pumpkin pie spice, and sea salt until fully combined.
4. Stir in the pecans and white chocolate chips.
5. Use an ice cream scoop to drop cookie dough 30 cookies and bake for 10-12 minutes in the preheated oven. Enjoy!
Nutrition
One serving equals: 123 calories, 10g fat, 52mg sodium, 5g carbohydrate, 0g fiber, and 5g protein.