Time to Train… for Free Until January!
What's the catch?
1.) You have to be a new or returning student.
2.) You have to register for your first free session online at www.teamplusone.com this week. (The session can take place at any point before January, but you have to register for it this week.)
3.) After the free introductory session, you do have to enroll with the membership actually starting as of January, 2022. So, it's basically a month free… if you enroll… if you start, soon.
4.) To take advantage of this… and train in everything we have to offer… visit www.teamplusone.com and register for your free introductory session. Use promo code "Train Free" to take advantage of the promo.
The Gift You DESERVE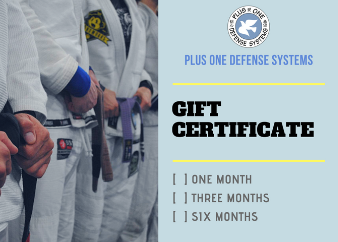 This is the time of year that you focus on getting something special for all the important people in your life. You put time and thought into finding that perfect gift that will make them feel loved.
But what about you?
With all that you do for others, it's time to do something just for you.
How about the gift of better health and well being? How about learning a life-skill at the same time? You and I both know that you deserve it. 
It's your time…embrace it.
Click here to buy yourself a gift certificate at: https://www.teamplusone.com/product/gift-certificate/
Real Healthy Gingersnaps
In the spirit of the holidays, here is a wholesome cookie recipe that is packed with the flavors of the season.
These cookies are made with grain-free flours and coconut sugar to make it more fitness friendly so that you can stay on track while enjoying a treat.
Keep in mind that the dough really expands while baking, which is why you'll need to space the cookies at least 3 inches apart on the baking sheet. Don't flatten out the balls when you put them on the pan, either. Let them expand naturally in the baking process and enjoy the pretty cracks that come as a result.
Courtesy of RealHealthyRecipes.com
What you need
Servings: 50
2 cups Raw Pecans
¼ cup coconut flour
½ cup blanched almond flour
½ cup arrowroot starch
2 teaspoons baking soda
½ teaspoon sea salt
1 tablespoon ground ginger
½ teaspoon ground cardamom
½ teaspoon black pepper
⅓ cup coconut oil
¼ cup coconut cream
1 cup coconut palm sugar
⅓ cup molasses
1 egg
Instructions
1. Preheat the oven to 350°F. Line a large rimmed baking sheet with parchment paper and set aside.
2. Toast the pecans in a dry skillet over medium heat, stirring often, for 5 minutes, until fragrant and golden. Set aside to cool.
3. Pulse the pecans in a food processor until finely ground. Add the coconut flour, almond flour, arrowroot, baking soda, salt, ginger, cardamom, pepper, oil, cream, 3/4 cup of the sugar, molasses, and egg. Pulse until fully combined.
4. Gather the dough into a ball, wrap it with plastic wrap, and place it in the freezer for 20 minutes.
5. Place the remaining 1/4 cup coconut sugar in a bowl. Form the dough into 1-tablespoon-size balls and roll them in the sugar. Arrange the dough balls on the prepared baking sheet about 3 inches apart and do not press the dough down. Bake for 8–12 minutes, until golden.
Nutrition
One cookie equals: 84 calories, 5g fat, 88mg sodium, 9g carbohydrate, 1g fiber, 6g sugar and 1g protein.